"Orange" you glad we have so many colors to choose from?
Remember those personality quizzes, where they try to determine what personality you are based on trivial questions like, "What's your favorite color?" And then they'd try to classify your personality based on the color you've picked, like, pink means you're outgoing and social, and blue means you're reserved and quiet, or something overly simplified but still worded positively (since nobody likes being told they have a bad personality). I had a problem with those, because my favorite color fluctuated from time to time, which, according to these frivolous personality quizzes, probably meant I was guilty of schizophrenia....
Having trouble choosing?
It's tough picking a favorite color! To me, different colors elicit different emotions and therefore different outfit options, different seasons or different moods I'd like to convey.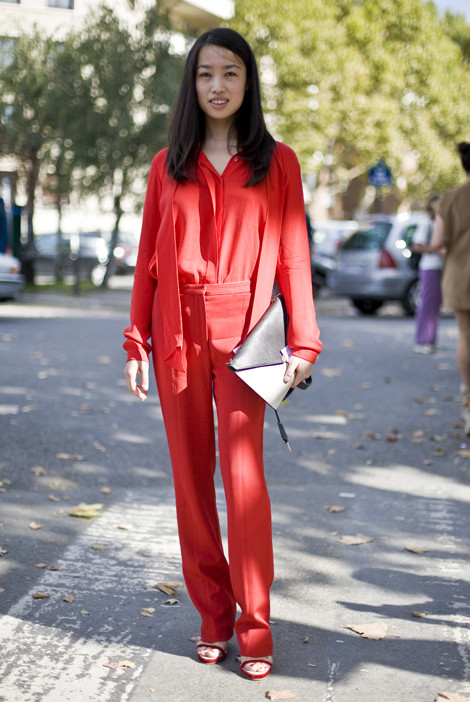 Red on red! Le gasp!
Red! I used to not like this color, but my mom really likes it (I like to attribute it partly to the fact that she is Chinese, and the color red brings good luck in Chinese culture). She used to buy this color for me a lot (back when she still could buy clothes for me) and I'd never wear any of it. But now, I'm slowly changing my mind.. I think the problem was that I lacked the proper pieces in this color (and probably good taste, back then). Red, especially a more wine/burgundy red, has the potential to look really classy and elegant. It's a great color if you want to look luxurious, elegant, something more ala red carpet look, evening gown...
The original color of chic
Black is a color for cool elegance. Nothing does it like black - cold, edgy, punk, tough, refined,
cool
. You can use it for anything and I love how versatile this color (or non-color) is! That's probably why much of my wardrobe is black (so versatile), but I am still not cool, not at all, so....
Camel, camel, everywhere!!
Currently, my favorite colors are blue, camel and other neutral/nude tones. Blue, mostly because I've realized, depending on the shade, it's another easily versatile color. Camel and co are great for the winter/fall because they bring a degree of softness to whatever you wear. The color is so perfectly feminine and elegant. I'm still looking for a camel coat... I know, I'm behind, but I also have budget issues, so...
Remember when it was still warm and the sun didn't set at 3 PM?
But now I can't wait for spring/summer and start busting out pastels and bright pops of (obnoxious) color! Except I need to buy the clothes first (ahh, my wallet).... My wardrobe is really conservative, color-wise. But, let's be honest, how much time have I got until it's no longer socially acceptable for me to be wearing these colors? I need to get on it!!
P.S. Please tell me which of my blogposts you've liked the most so far - I'm thinking about entering Refinery29's style blog contest! Also, any suggestions on personal taglines would be great too - I really hate describing myself in terms of a sentence. Merci!
P.P.S. Still working on the Milan menswear post... and then Paris starts, ugh.. Really getting behind......
Photo Credits: Jak & Jil, NYMag.com, Street Peeper, The Sartorialist, Garance Dore (x2)