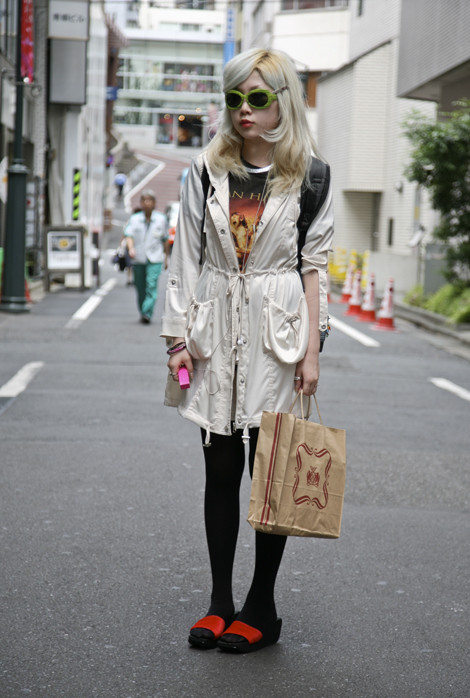 The spirit of Japanese fashion - kawaii and individualistic
Japanese fashion has this really distinct feature about it that makes it recognizable from a mile away. You can't miss it. And you'll always recognize it. The same can be usually said about other places, too - i.e. you can always tell if a girl is from Paris or if a guy is from Italy - but it's uncanny how distinguishable Japanese fashion is. Like smelling fish a mile away....... okay, not the analogy I was going for. But you know what I mean.
Everything is sooo cutee...
This is the land of avant-garde. Over the top? No no no, that is encouraged. Costume? Please, roleplay is a basic. As opposed to the emphasis of fit, it's the
thought
that counts. People dress with a concept. Flamboyance! And everything still looks so cute!!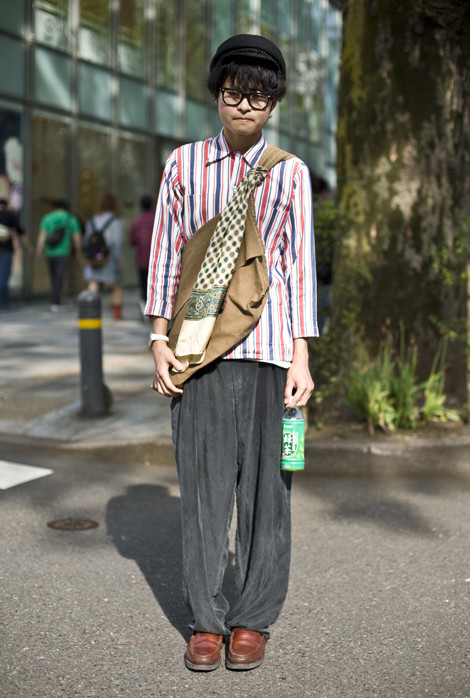 Love this take on vintage, pure Tokyo
The Japanese are great at layering. Layering different prints over each others. Layering different lengths over each other to create interesting juxtapositions. Layering weird shapes over each other. Layering interesting colors together. There is no taboo in Japanese fashion because it's all encouraged. They're a walking modern art museum.
Kenzo S/S '11
Of the big Japanese names, my personal favorite is Kenzo (it aligns more closely to my style and I'm not daring enough to really delve into abstract, complex shapes and layerings). This brand really grew out of an East meets West mixing of Japanese traditional patterns. Just looking at the S/S '11 collection, you see the abundant pattern mixing, the length layering (on the left, also something I would probably never wear in real life unless I was costuming..), and the Japanese, oriental prints and even
geta
-like flat platform sandals (on the right). Love it.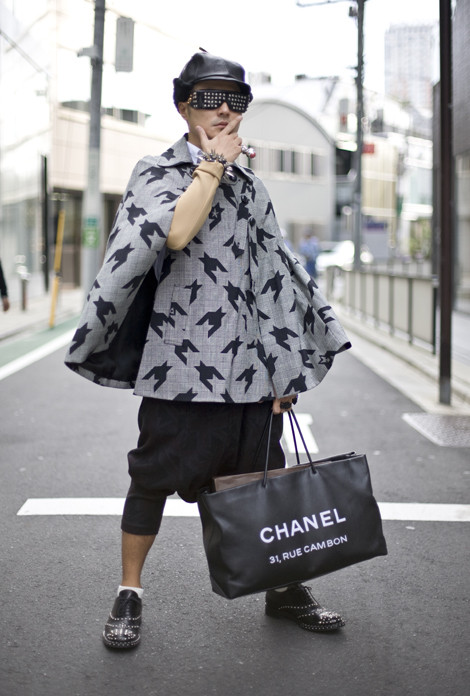 The famous CDG drop crotch pants
If there's a Japanese brand that really describes Japanese fashion for me, it's got to be Comme de
Garçons. Just like its name suggests, it is everything boyish. Oversized and hapless layering makes it seem like clothes a little, attention-seeking boy who wants to grow up would wear. This is Japanese fashion to me: forever young, cute, hapless. It's stuff we would try to put together when we were younger, playing dress-up, at a loss for dressing appropriately. Love clothes for what it is, without a care for whether or not it fits us or if it looks costume-y or ridiculous - we wear clothes, we love fashion, because it's fun!! There should never be any airs in fashion, because in the end, we are just a bunch of people who love to wear clothes..
This is what Japanese fashion embodies.
What I would give to go to Tokyo...
P.S. To be fair, I was in Tokyo..... when I was six months old. And lived there until I was one. But I don't think that really counts....
Photo Credits: Street Peeper, The Sartorialist, Street Peeper, NYMag.com, Street Peeper (Verbal of Teriyaki Boyz), The Sartorialist